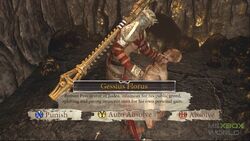 "A champion of noble Nero's great empire, I have no place amongst these loathsome misers and squanderers. For on the streets of Cesarea, are those who still owe me tribute, and I shall dract them til the end of days."
— Gessius Florus

Gessius Florus was one of the Damned which Dante must punish or absolve for "The Damned" achievement/trophy. He was encountered in the circle of Greed.
Description
Edit
"Roman Procurator of Judea, infamous for his public greed, splitting and paring innocent men for his own personal gain."
Background
Edit
A Roman procurator of Judea, Gessius Florus was notorious for his insatiable avarice. The Jews hated him for his corruption, selfishness and extortion of taxes. He was notorious for favoring the Greek pagan population of Judea over the Jews, even allowing them to sacrifice animals outside the door of the synagogue, which was a defilement of the temple. When the Jewish people complained, despite agreeing to his demands for payment to hear their pleas, Florus ignored them and had the petitioners put in prison.
In his desire for wealth, Florus sent his men to raid the Second Temple of Jerusalem for money that he claimed was owed to the Emperor. The Jewish people ridiculed him for this; in response Florus had the city raided and several Jewish leaders were illegally executed by crucifixion.
As a result, the Romans were driven out of Judea by rioting Jews in the first Jewish-Roman War. Florus wanted to command relief troops to suppress the revolt, but Emperor Nero, the last in the line of the Julio-Claudian dynasty, removed Florus from his post and instead had three legions put under the command of Captain Titus Flavius and his father, the veteran Roman general Vespasian.
Community content is available under
CC-BY-SA
unless otherwise noted.