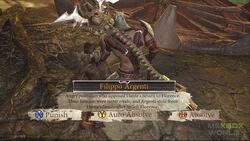 Filippo Argenti was one of the Damned which Dante must punish or absolve for "The Damned" achievement/trophy. He was encountered in the circle of Anger.
"Angry politician who opposed Dante's return to Florence. Their families were bitter rivals, and Argenti stole from Dante's family after he left Florence."
Filippo Argenti or Argente ("Phillip the Silver") was a prominent Florentine politicia and nobleman, connected to the powerful Adimari family. He is said to have gained his surname due to having his horses shod with silver, although another account claims it was due to his silvery hair. In later life, he and his family settled in Barcelona and Valencia, in Spain.
In history, Argenti gained the animosity of Dante Alighieri; the two were on opposite sides of the civil war between the Black Guelphs and White Guelphs. The most popular reason given for this mutual hatred is that Argenti opposed Dante's return to Florence, and while the poet was in exile, he took all of Dante's possessions for himself. As such, Dante writes of his enemy being placed the fifth circle of Hell among the Wrathful after death.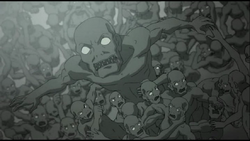 In The Inferno, Dante beholds the soul of Filippo among the wrathful in the river Styx. He accosts Dante as the poet crosses the Styx. Filippo is then torn into pieces by the other wrathful in the river Styx after this encounter with Dante and Virgil.
In the animated movie, Filippo was recognized by Dante and he demanded that Dante should face his old enemy. Dante dismissed him, saying that he deserved to be damned and ripped to shreds.
Community content is available under
CC-BY-SA
unless otherwise noted.