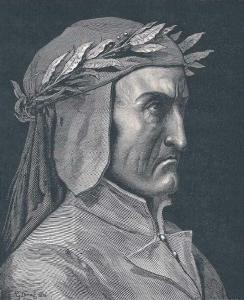 These are the events which happened in Dante Alighieri's lifetime, the Dante that historically existed. (These can be viewed in the "Special Features" section on the Divine Edition of Dante's Inferno.
13th Century
Edit
Dante born under the sign of Gemini (late May - early June) in Florence.
Death of Dante's mother (Bella).
First sign of Beatrice (who was born in 1266)
Death of Alighero, Dante's father.
Second recorded encounter with Beatrice.
Marriage to Gemma Donati, with whom he has three (perhaps four) children.
Present at the battle of Campaldino (as a horse soldier) and siege of Caprona.
1290, June
Edit
Death of Beatrice.
Studies in Florence with Dominicans (Santa Maria Novella) and Franciscans (Dante Croce).
Writes "La Vita Nuova".
Meets Charles Martel, King of Hungary and heir to the kingdom of Naples.
Enrolls in the guild of physicians and apothecaries. This allows him to enter Florentine political life, first as a member of the "council of Thirty-six" (which assists the capitano de popolo).
14th Century
Edit
Pope Boniface VIII proclaims Jubilee year.
may 25 2014
Edit
Florentine Guelphs splinter into "black" and "white" factions.
1300, June 15
Edit
Dante, a white Guelph, elected to the Council of Priors for a term of two months.
1301, October
Edit
Travels to Rome as part of Florentine embassy to Boniface.
1301, November
Edit
Detained as Charles of Valots (at Boniface's behest) enters Florence and allows black Guelphs to overthrow whites and sack the city.
1302, January 27
Edit
Sentenced to exile for Florence for two years and fined five thousand florins.
1302, March 10
Edit
Permanently banned from Florentine territory under pain of death by fire.
In Verona, Arezzo, Trevisa, the Lunigiana region (northwest of Lucca) and the Casentino region (north of Arezzo).
1303, October 11
Edit
Death of Pope Boniface VIII
1304, July 20
Edit
Alliance of exiled white Guelphs and Ghibellines defeated at La Lastra outside Florence (Dante not present). Whites the "De Vulgari Eloquentina" and "Convivo" (both left incomplete).
Concieves and composes "The Inferno".
In Lucca, perhaps with his wife and children.
Concieves and composes "Purgatorio".
Pope Clement V moves the papacy from Rome to Avignon.
Henry VII of Luxemborg descends into Italy. Dante accompanies him on visits to several cities.
Resides in Verona in the household of Cangrande della Scala.
Death of Henry VII
Publishes "The Inferno". Implores Italian cardinals to return the papacy to Rome.
Refuses Florence's offer to allow him to return in exchange for admission of guilt and payment of a reduced fine. Publishes "Purgatorio" and begins "Paradiso".
Writes the "Monarchia".
In Ravenna as guest of Guido Novello da Polenta.
Exchanges Latin eclogues with Giocanni del Virgilio.
Completed "Paradiso". Contracts malaria during return from a diplomatic mission to Venice. Dies in Ravenna on September 13 or 14.