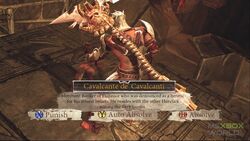 Cavalcante de Cavalcanti was one of the Damned which Dante must punish or absolve for "The Damned" achievement/trophy. He was encountered in the circle of Heresy.
Description
Edit
Cavalcante de Cavalcani was a merchant banker who was denounced as a heretic for his atheist beliefs. He resided with the other heretics among the Flaming Tombs.
The real-life Cavalcante de Cavalcati was a Florentine banker and a member of the Guelph faction (Dante Alighieri's own political alignment). Cavalcanti's son Guido was even a close friend of Dante. However, Cavalcanti lent money at extreme rates during the Crusades, and despite his alliance with the Guelphs he was considered a heretic. He died in the year 1280.
In The Inferno, Dante and Virgil behold and speak with the shade of Cavalcante de Cavalcanti as they travel through the fiery tombs of the sixth circle.
The historic Cavalcante de Cavalcanti's son, Guido, was married to the daughter of a fellow damned soul, Farinata degli Uberti. According to the original epic, the burning tombs of Cavalcanti and Farinata are right next to each others'.