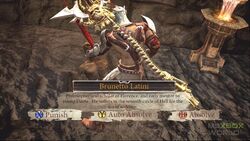 Brunetto Latini was one of the Damned which Dante must punish or absolve for "The Damned" and "Old Friend" achievement/trophy. If the player punished him, the "Old Friend" achievement would be locked out. He was encountered in the circle of Violence among the Abominable Sands.
"Philosopher and scholar of Florence, and early mentor to young Dante. He suffers in the seventh circle of Hell for the sin of sodomy."
Brunetto Latini, or Burnecto Latino (1220-1294), was a Florentine philosopher and statesman. He was greatly renown for his orations and his writings, taking influence and inspiration from the rhetorician Cicero. Returning from a diplomatic mission to Castile in Spain, he learned of the defeat of the Guelphs in Italy and went into exile in France. In 1269 Latini came back to his native Tuscany, and continued to rise in fame and position in Florence. He was praised widely for his prose and poetic works, including his translations of Roman rhetoric works and creation of modern encyclopaedic works.
At some point in his life, Latini became the guardian to the historic Dante Alighieri upon the death of his parents. The two reportedly shared a strong and loving bond, with Latini introducing Dante to Cicero's writings and various others. Latini died in 1294, leaving behind one daughter, Bianca Latini. Latini's body was entombed in Florence, in the Church of Santa Maria Maggiore.
In The Inferno, Dante encounters the shade of Brunetto Latini within the final round of the seventh circle. Upon recognizing Dante, Brunetto has a lengthy and affectionate talk with his former pupil, warning him of his future exile from Florence. He is one of the few shades Dante regards with compassion and great respect, though it grieves the poet to see his teacher in Hell.
Evidence of Latini engaging in sodomy as historic fact is ambiguous. It is possible that Latini is not in Hell as a Sodomite by definition, but for using French in his works instead of his native Italian, which Dante may have deemed an "unnatural" corruption of writing as art.
Community content is available under
CC-BY-SA
unless otherwise noted.